Links

Bpd links

BPD Central is a list of resources for people who care about someone with borderline personality disorder (BPD). They are one of the oldest and largest sites about BPD on the web
,



Leland M. Heller, M.D. has treated thousands of patients with the borderline personality disorder (BPD), ran a BPD support group for 3.5 years, given hundreds of lectures, and regularly answers questions about a the Borderline Personality Disorder and other biological causes of unhappiness
,



Borderline UK is the only support group in the UK for people with a borderline disorder. Dale Ashman is the Project Co-ordinator. Internet links
,



Kathi's Mental Health Review Online is designed as a source to deliver cutting edge technology on Borderline Personality Disorder.
,



Dr. Richard A. Moskovitz web site, author of "Lost in the Mirror: an inside look at Borderline Personality Disorder"
,



"The mission of the Personality Disorders Foundation is to, Attain significant progress in the research and treatment of severe personality disorders; Advocate for policies and funding necessary to achieve these advances; To gain national exposure aimed at educating the public about, and destigmatizing the diagnoses of, personality disorders"
,



"The Treatment and Research Advancements Association for Personality Disorder, TARA APD, is a 501 C3 not-for-profit organization whose mission is to foster education and research in the field of personality disorder, specifically but not exclusively Borderline Personality Disorder (BPD)"
,



Yellow Brick Road Tour: Resources for dealing with Borderline Personality Disorder (formerly nonbpd.org)
,

,



Verwante organisaties en sites
,

Other links


HealingWell.com is a thriving community and information resource for patients, caregivers, and families coping with diseases, disorders and chronic illness
,


,

,

,,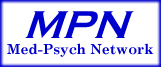 "We are your source for medicine and psychiatry news"
,



Our Mission
To assist people affected by mental illness, developmental disabilities and related disorders in living more meaningful lives
,



The oldest catalog of mental health links online, since 1992.
Regularly maintained by Dr. John Grohol's and an assistant, it is one of the Net's best annotated guides to the most useful Websites, newsgroups, and mailing lists online today in mental health, psychology, social work, and psychiatry. About site submission policy: "...Because of the amount of submissions we receive, we cannot accept all submissions -- we are looking for the very best the Internet has to offer"


The International Society for Mental Health Online (ISMHO) was formed in 1997 to promote the
understanding, use and development of online communication, information and technology
for the international mental health community. ISMHO is a nonprofit corporation


Copyright AAPELTM - All rights reserved
Author,

, founder of the Aapel
non profit organization